Florida Trend Magazine
The Doctor Will See You Now ... For An Extra $1,500
A Florida company is at the epicenter of what's called Concierge Medicine.
By Cynthia Barnett
Six years ago, Dorothy Ascherman of Boca Raton opened her mailbox to find a surprising letter from her longtime family doctor, internist Dr. Robert Colton.
Colton was overhauling his medical practice, the letter explained. He planned to slash his patient load from 3,000 to 600. Instead of hourlong waits to see him for minutes, patients would wait minutes to see him for an hour. They would also get his cell phone number, next-day appointments and the undivided attention of Colton and his staff.
Under this so-called "concierge" approach, Colton would continue to accept reimbursement from Ascherman's Medicare or other insurance carriers, the letter said, but she would have to pay a $1,500 annual fee if she wanted to remain his patient. Ascherman, now 72, discussed the offer with her husband and her two sons, who are both physicians. And she declined. "Although we loved Dr. Colton," she says, "we decided the $1,500 wasn't worth it."
Then Ascherman got sick. A long wait to see her new primary care physician, and a particularly long wait in the emergency room after her new doctor failed to diagnose an illness, led her to reconsider Colton's offer. When she called him, she was lucky to land a spot. Colton and his partner, Dr. Bernard Kaminetsky, now turn away patients in droves.
Today, Ascherman is one of a growing number of patients gladly shelling out from $1,500 to as much as $20,000 a year for concierge primary healthcare. Colton's fee these days is $1,650.
Is Ascherman healthier? That's unclear, but she's convinced she's getting better care -- the kind of bedside manner that more than justifies Colton's extra charge. "I cannot tell you the time, the attention and the personal concern," Ascherman says. Colton expedites her medical tests, calls to check on her when she's sick and remembers everything she's ever told him during follow-up visits. "It's far better medical care than I ever expected."
Also known as boutique or personalized medical care, concierge practices first popped up in the U.S. in Seattle, in 1996. A decade later, relatively few doctors have switched to the approach ["Self-Limiting or Hot Trend?" page 70]. But the numbers are growing, and Florida is at the forefront of the trend, led by Boca Raton-based MDVIP, a management company that helps doctors convert to concierge practice.
Colton, Kaminetsky and other Florida concierge doctors say the trend is inevitable -- the outcome of an insurance-driven medical system that continues to lower reimbursements and forces doctors to increase their patient loads. By asking patients to subsidize their practices, concierge physicians say, they can keep patient numbers small, giving the doctors time to talk in-depth with patients and provide the type of preventive care that keeps people from getting sick in the first place.
The move toward concierge care leaves the medical establishment in a quandary, however. Many agree that strict cost controls and authorization-based management by insurance companies, HMOs and Medicare have squeezed doctors and increased bureaucracy. Doctors and patients alike complain of tight office schedules, long waits and "little flexibility to accommodate patients whose problems consume more than the 15 minutes that third-party payers allot" for a primary-care appointment, says Dr. Mervin Needell, a recently retired Miami urologist who wrote about the concierge trend in The Journal of Clinical Ethics.
Needell and other ethicists acknowledge concierge doctors are fulfilling their duty to provide prompt and ample care to patients and that the doctors avoid overusing hospitals and specialists because they have time to treat their patients themselves.
At the same time, the ethicists worry that concierge medicine will widen the care gap between rich and poor. And, they ask, what happens to the patients, usually more than 1,000, who are dropped every time a doctor switches from a regular practice to a concierge practice?
"If only a few doctors do it, it will be OK," says Needell. "But if all the doctors bolt, the vast majority of the public would be left without adequate medical care."
The Concierge Patient
Jamie Blumentha and her husband, a Tampa businessman, had grown exasperated with how they were treated when they or their children, ages 3 and 5, got sick. They say they always ended up seeing different physicians who didn't know them or their medical history. "Every time we had to call, even to check on a test result or get a prescription refilled, there would be this time-consuming chain of command," Blumenthal says. The Blumenthals read about O'Neal in a newspaper article and made an appointment to interview him. They are thrilled with his care, "just the way you wish a family doctor would be." His $3,500 annual fee for a family, Blumenthal says, "is well worth it — it's an investment in our family's health."
The Concierge Doctor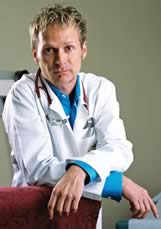 Dr. Michael O'Neall, a primary care physician and the team doctor for the Toronto Blue Jays, has concierge practices on Tampa's Harbour Island and in Palm Harbor, with 200 patients each. His retainer fee is $1,500 for an individual, $2,500 for a couple and $3,500 for a family of six. "I firmly believe I'm saving them money," says O'Neal, who has three years of data showing his patients are less likely to land in the ER, less likely to be hospitalized and less likely to miss work than the average primary care practice patient. "And their time is optimized, and they are getting preventive care," he says. His non-athlete patients range from 2 to 90 years old. O'Neal, 37, hung his concierge shingle right out of residency at the University of South Florida. He calls his practice model "membership medicine." It's a bit riskier than most concierge doctors, who convert practices after building up years of experience. "My model is unique," O'Neal says, "but I didn't have to drop any patients.
Better health?
It's not yet clear whether the concierge approach actually makes patients healthier or just makes them and their doctors more comfortable.
Data from MDVIP show its patients' hospital admissions are 65% lower than the national average for Medicare members and 26% lower than a top-ranked HMO's average. The average hospital length of stay was 17% lower for commercially insured patients and 5% lower for Medicare patients. Total hospital charges, too, were reduced: 14% for commercial patients and 13% for Medicare patients. Company executives say they achieved these results despite higher severity ratings for MDVIP-admitted patients.
But more data and peer-reviewed studies are needed to figure out whether concierge care actually produces better health, says Kenneth W. Goodman, who directs the University of Miami Bioethics Program and the Florida Bioethics Network, a group of healthcare professionals who wrestle with ethical issues in medical care and research.
Goodman has been fairly critical of concierge care. But recently, UM's medical school entered into a contract with MDVIP to open such a practice in Key Biscayne. That concierge office could provide key data that are missing in the debate, Goodman says. "We hope this experiment will demonstrate whether this type of medicine makes a difference or not," he says. "If there's no difference, then it will be hard to convince people to pay for it. If there is a difference, it means that people who have more money are getting better medical care -- and that fact is not something to brag about."
"We were afraid senior citizens on Medicare who could not afford concierge care would get kicked out of practices, and they are." — Bryan Gulley, Sen. Bill Nelson's press secretary
Gaps in service?
Some believe doctors who charge for concierge care while accepting Medicare reimbursements violate the spirit, if not the law, of the Medicare system, which requires a uniform standard and equal access to care for the nation's elders. Up to now, concierge physicians have been able to keep their Medicare patients by showing their extra fees are for services that Medicare doesn't cover.
U.S. Sen. Bill Nelson, D-Florida, is pushing his Senate Bill 2080, which would prohibit doctors from charging Medicare beneficiaries an annual retainer. The bill hasn't gotten much support in Washington. "We're not against doctors charging an annual fee," says Jon Cooper, Nelson's healthcare counsel. "We just don't think they should be able to charge it to Medicare patients.
"We all pay into the system for our whole working lives," Cooper says. "When you finally reach retirement age, you shouldn't have to pay thousands of dollars more to access quality medical care."
Concierge practices meet American Medical Association ethics guidelines as long as doctors make arrangements for patients who choose not to pay the fee. The 2003 guidelines also specify that concierge physicians can't claim they provide better care: "A retainer contract is not to be promoted as a promise for more or better diagnostic and therapeutic services."
While many insurers continue to work with concierge doctors, some big carriers like Cigna and Blue Cross Blue Shield won't include concierge physicians in their provider networks. "Our contracts cover everything medically necessary, including preventive care," says Dr. Barry Schwartz, vice president of network management for Blue Cross Blue Shield of Florida. "So when they charge extra for things that are medically necessary, they are not living up to that contract."
DOWNSIZING:
Dr. Jackie Lefferts decided to contract with MDVIP after growing tired of the high-stress pace of her practice; at one point she had more than 2,000 patients.
Dr. Jackie Lefferts, Key West
Model:: MDVIP
Dr. Lefferts, a board-certified physician in both internal medicine and pulmonary disease, has practiced medicine at a high-stress pace for 20 years. She was in a "very busy, and very lucrative" Miami pulmonary group, where she did rounds at six hospitals each day, driving madly between Miami-Dade and Broward counties. "I may have had a beautiful car, but the inside looked like a fast-food joint — I wasn't happy, and this was not the way I wanted to practice medicine. " Six and a half years ago, Lefferts moved to Key West to practice internal medicine at what she thought would be a more reasonable pace where she could spend time with patients. Instead, she soon had a patient load of more than 2,000 and a growing sense that she couldn't care for each properly. "I'm taking care of 2,000 lives, not 2,000 potted plants," she said. "I don't want to make a mistake — not even once." After agonizing, Lefferts recently decided to contract with MDVIP and transition to a concierge practice. She worried about the 1,500 patients she would shed to four other area doctors. But if she hadn't made this change, she says, she would have given up her practice altogether, dropping all 2,000 instead of 1,500. "I just want to love medicine again," she says.
MDVIP executives, who recently started using the term "personalized healthcare" instead of "concierge" care, say their program is predicated on services not covered by insurance or Medicare, such as special diet, exercise and mental-health screenings. MDVIP general counsel and CFO Darin Engelhardt has traveled regularly to Jacksonville to try to convince Blue Cross executives that his company's model results in healthier patients and lower costs.
As for widening the rich-poor gap, Colton, Kaminetsky and other concierge physicians say their practices look about the same as they looked before they switched, with plenty of middle-class patients paying the fee. (They and most concierge physicians also keep some poor patients who they feel truly couldn't afford the fee.)
"This is a viable choice for many people when you consider what people spend for a cell phone or cable television or an evening out with friends," says Engelhardt. "You could call this extravagant only to the extent that someone paying $125 a month for a cell phone is extravagant."
Colton and Kaminetsky's offices are no fancier than the average doctor's. The waiting room has the standard TV and assorted magazines and health brochures on a coffee table. The big difference is this: Not a soul is waiting. Patients who walk in pick up a telephone receiver and get called back immediately. Between patients, the doctors return other patients' calls and e-mails and take time chatting with specialists about test results.
Critics, including some fellow family physicians, argue the concierge doctors are doing less work for more money. Some are offended by the suggestion that they can't take good care of a couple thousand patients a year.
Kaminetsky acknowledges his personal compensation and that of his office staff increased about 60% after his shift to retainer fees. Medicare pays an internist just over $50 for an average office visit, meaning he might earn $200 a year caring for the average Medicare patient with minor health problems. Now, Kaminetsky, who contracts with MDVIP, makes a little more than $1,000 a year per concierge patient, meaning he can keep his patient numbers low and still earn more money.
"I don't think it's reasonable to deny the demand of consumers who want preventive medicine, want nutrition advice, want time with their physician." — Dr. Bernard Kaminetsky
Kaminetsky says trying to care for 2,600 patients left him so harried that he spent evenings obsessing about whether he'd cared for everyone adequately. Today, he says, he works just as hard; arriving at the hospital at 7 each morning for rounds. "But now when I get home at night, I'm not worrying about the phone call I left unreturned or the test result that went uncommunicated."
Nelson's press secretary, Bryan Gulley, says his Senate office has received increasing numbers of complaints from constituents in southeast Florida who report being dropped by their doctors. "This type of practice is growing fast, which is just what we were worried about when we first got involved with this issue," Gulley says. "We were afraid senior citizens on Medicare who could not afford concierge care would get kicked out of practices, and they are."
Concierge Care: Self-Limiting or Hot Trend?
Only some 500 physicians nationwide have turned to concierge practices, according to Jack Marquis, a healthcare attorney with the Michigan law firm Warner Norcross & Judd who helped found a professional organization called the Society for Innovative Medical Practice Design. Florida Trend tallied at least 50 concierge practices in major metropolitan areas in the Sunshine State, with most in southeast Florida. Some primary care doctors also have lowered patient loads by dropping insurance plans altogether; no statistics exist on the number of these "fee-for-service" practices.
Congress's General Accounting Office reported last summer that concierge care is practiced by a very small number of physicians located mainly along the east and west coastlines. The American Medical Association reported the trend is "self-limiting" because the more physicians charge for services, the smaller patient demand is for those services. But that is not the experience of a fast-growing Boca Raton company called MDVIP, which helps physicians convert to and manage concierge practices.
In November, Inc. magazine ranked MDVIP one of the fastest-growing companies in the country, with three-year sales growth of 1,841%..
In March, the company, which was founded in late 2000, had expanded to 21 markets in 15 states. The company now has contracts with more than 100 physicians covering more than 33,000 patients nationwide. Its average patient renewal rate is 95%. The 33,000 patients pay their doctors an average fee of $1,500, $500 of which goes to MDVIP, translating into annual revenue of $16.5 million.
Dr. Edward Goldman, CEO and co-founder of MDVIP, who had a family practice in south Florida for 25 years, says he believes the company could widen rather than restrict access to primary care. The number of primary physicians in the U.S. already is in precipitous decline, due to issues like job dissatisfaction and lower pay relative to other medical specialties.
Only about 33% of med school students now go into primary care, down from about 50% historically. Meanwhile, more than half of all family doctors in the U.S. report plans to retire or otherwise give up practices in the near future. "We don't believe our numbers will be enough to effect access to primary care," says Goldman. "But other trends in medicine are impacting access, and we believe our model will actually attract new doctors into the field."
MDVIP requires physicians who join the company to find new doctors for each patient who declines to pay the personalized-care fee.
Kaminetsky says he doesn't see the logic in preventing Medicare patients from being able to purchase an extra level of service that gives them peace of mind and may keep them out of hospitals. "That's a populist soapbox," Kaminetsky says of Nelson's concerns. "I don't think it's reasonable to deny the demand of consumers who want preventive medicine, want nutrition advice, want time with their physician."
Concierge physicians also say it's ludicrous to pretend that different tiers of healthcare don't already exist: Medicaid, Medicare, PPOs, HMOs and the like. "Why should a Medicare patient be able to walk into a plastic surgeon's office and pay for extra services and not be able to purchase an executive level of care from me?" asks Dr. Robert Briskin of Jupiter, who opened the first concierge practice in Florida, VIP Primary Care Associates, in 2000.
Briskin, who maintains both a regular and an executive practice, says he bills Medicare far more in his regular practice. "The factories bill Medicare tons, and the concierge practices bill Medicare a tiny amount," says Briskin. "I challenge the lawmakers to give everyone better access to care.
"I give my patients my cell phone number. Bill Nelson is my U.S. senator. He should give me his cell phone number so I can tell him all this."
Drs. Robert A. Briskin and Michael Milstein, Jupiter
Model: Hybrid practice
VIP SERVICE: Dr. Robert A. Briskin (right) and Dr. Michael Milstein, who are gradually building up a concierge service, plan to keep treating traditional patients.
Dr. Briskin is a board-certified internist and fellow of the American College of Physicians who's practiced internal medicine in Jupiter for 21 years. In 2000, he started the first concierge practice in Florida, VIP Primary Care Associates. He got the idea from his patients: One asked if he could pay more to spend more time with him. Another asked if he could pay extra to make sure Briskin, rather than a hospital doctor, came to see him during a hospital stay. "Patients weren't getting the care they wanted," Briskin says. Unlike many concierge doctors, Briskin and his partner, Dr. Milstein, who joined the practice nearly three years ago, haven't shed all of their traditional patients to start a concierge practice. Instead, they're gradually building up a concierge side. Their goal is about 500 patients each, with 400 paying for concierge service. They offer three levels of executive care: $1,500 a year, which includes next-day visits, hourlong executive physicals and the doctor's cell phone number; a $2,500 level includes house calls twice a month and same-day service; a $5,000 level includes daily contact with the doctors or nurses and weekly house calls. At this point, about a third of the practice's patients don't pay the VIP fee. They don't get the doctors' cell phone numbers, but they otherwise receive the A-team care. Briskin and Milstein say by charging the executive patients and not having to turn some of that money over to a management company such as MDVIP, they are able to keep more patients who can't afford the executive care. "Doctors are caring people who want to treat all their patients like VIPs," says Milstein. "This is the way we've figured out how to do that."