SUNDAY, JANUARY 3, 2004 TAMPA, FLORIDA
THE TAMPA TRIBUNE And The Tampa Times
Boutique Medicine
By GUY BOULTON gboulton@tampatrib.com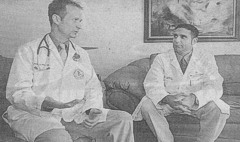 PALM HARBOR - When he bought his ailing father to live with him, Glenn Shurts spent much of the drive from New Jersey wondering how he would care for him.
His father, Gerald, who couldn't walk at the time, has emphysema, diabetes, congestive heart failure and other chronic diseases. "I had no idea what I was going to do," Shurts said.
A friend told him about the Center for Family Health and Prevention, started by two young doctors who promise same-day appointments, no crowded waiting rooms, extended hours, lengthy doctor visits - and house calls. The additional attention comes at a price: an annual retainer of $1,000 for one person, $1,500 for a couple and $2,000 for a family. That's on top of what the patients' health insurance pays. For Shurts, of Oldsmar, the care has been worth the price. "I can't say enough good things about what they have been able to do for my father and me," he said about the help for his father.
The Center for Family Health and Prevention, among the first "boutique" or "concierge" practices in the Tampa Bay area, was started in August 2002 by Brent Agin and Michael O'Neal at 2702 Tampa Road, Palm Harbor. It has about 450 patients. If the past year is any indication, many are willing to pay for what they consider more personal care from doctors.
In a boutique practice, doctors charge an annual fee and limit the number of patients they see. This enables them to offer prompt appointments, longer patient visits and, theoretically, better care.
People often equate the quality of their health care with the amount of time their physician spends with them. Doctors in boutique practices contend they can and do spend more time with patients. Does that mean they provide better care? "There definitely is a relationship, but the two do not equal each other," said Daniel Van Durme, a professor of family medicine at the University of South Florida's College of Medicine. "You can spend all the time in the world with a poor-quality physician and still get poor care."
AMA Bars Better Care Claims
The American Medical Association's ethical guidelines bar doctors in boutique practices from contending they provide better care.
O'Neal and Agin spend an average of 40 minutes with each patient. That's enabled them to establish the type of personal relationships in which a patient drops by on a recent weekday to give them one of her paintings.
"They're the finest," said Judith Whitmore, the patient and amateur artist. Since her husband, Don, who has congestive heart failure and diabetes, became a patient, he has started kayaking again. "If you want to come in and talk to them, they will give you the time," she said.
Agin and O'Neal, who are still building their practice, hope eventually to have about 800 patients. Estimates vary, but most family practices have about 2,500 per doctor, though they will have more if they use nurse practitioners or physician assistants.
Not surprisingly, many of their patients have serious health problems - the type of patient that may need 45 minutes of a doctor's time. "This allows us not to get overwhelmed with that kind of patient," said O'Neal, who also is an assistant clinical professor in family medicine, a voluntary position, at USF. Their patients aren't necessarily affluent. Instead, they are people who place a priority on their health and are willing to pay for more attention. Don Whitmore likens the additional cost to paying a bit more for an apartment.
That cost, though, is on top of the cost of private health insurance, estimated at nearly $3,400 a year for one person in an annual survey by the Henry J. Kaiser Family Foundation. "In the best of all worlds - in a world where medicine is practiced as it should be - doctors would spend the time needed," said Fred Paola, an internal-medicine physician and lawyer who is a USF professor. Most doctors, Paola said, do this now.
With estimates of fewer than 200 in the country, boutique practices are too few to be a trend. But they are a growing niche. That has stirred concerns of such practices someday becoming widespread, exacerbating inequalities in the health care system.
"We do have a concern that this going further the divide between the healthy wealthy and those who can't get the care they need," said Michael Fleming, a family physician in Shreveport, La., and president of the American Academy of Family Physicians. Many doctors don't see patients who don't have insurance or who are on Medicaid. What happens if doctors only see patients who have insurance and are willing to pay $1,000 a year?
For a doctor in a boutique practice, the additional revenue from the retainer can change the economics of a family practice. With 800 patients, the annual retainer would generate $400,000 to $500,000 a year, O'Neal said. If insurance covers their overhead, which the practice has kept low, the two could make considerably more than the $144,000 or so the average family physician in Florida makes.
O'Neal said they have a business plan to take the concept national. "This practice was created from Day One to be reproduced," he said.
Some insurance companies don't welcome that prospect. Blue Cross Blue Shield of Florida Inc. and Cigna won't make boutique practices part of their networks. Patients in some of those companies' plans still can see them, just as with any doctor not part of a network, but they must pay higher co-pays, since the insurer will pay only a portion of cost of the office visit.
Good Treatment Expected
To Blue Cross, when a doctor signs a contract and becomes part of the insurer's network, he or she agrees to provide good care for set rates. "We expect our members to be served well, and the payment we make includes good service," said Barry Schwartz, a doctor with Blue Cross. Managed-care companies and Medicare know that some patients take longer to diagnose or treat, and they pay more when a patient has complex health problems or is a new patient.
Further, many doctors acknowledge that managed care has forced them to become more conscious of costs in how they practice medicine and forced them to become more efficient. Even with managed care, health care costs have continued to soar.
The relationship between doctor and patient requires time, said Bryan Bognar, a professor of general internal medicine at USF. Time isn't the only factor. For patients, what matters is being heard and understood, Bognar said. That can hinge on a doctor's personality and patient skills. What ultimately matters in health care is the outcome: whether the patient's health improves.
The key is how a doctor allocates time, said Dale Rothenberg, executive vice president of Doctors Management of Knoxville, Tenn., which manages, but doesn't own, practices.
"It can be high quality," he said. "It doesn't have to be long duration."
Reporter Guy Boulton can be reached at (813) 259-7624.