Copyright Times Publishing Co. Aug 11, 2002
These Doctors Make Housecalls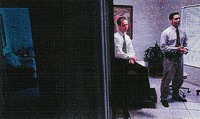 Drs. Michael O'Neal, 33, and Brent Agin, 31, will show up at your door on Christmas day if necessary. They'll leave the dinner table, or break up a vacation to answer your phone calls. Their calendar is always open. There's no waiting in their waiting room.
The two doctors, who are just launching their careers, want to mix 2002 technology with 1952 care. Monday, they officially open their new cooperative medical practice, the Center for Family Health, Wellness and Prevention, 2702 Tampa Road.
"We want to give patients the care they deserve," O'Neal said. "We want them to feel like they're at home."
The practice is believed to be Tampa Bay's first example of "concierge" medicine, in which patients pay an annual membership fee for a personal physician who's always available. In the case of Agin and O'Neal, the regular membership fee will be $1,000 for individuals and $2,000 for a family up to six - though they're running a half-off special to start.
The new practice is a takeoff on medical boutiques that emerged in the western United States in the mid 1990s. Those clinics offered preferential patient service with a high cost, and catered almost exclusively to upper-class clients.
Although similar boutique practices have opened or are expected to open elsewhere in Florida, Agin and O'Neal are thought to be the first opening in Pinellas, said Caryn Caldwell, the executive director of the Pinellas County Medical Society. There are currently no boutique practices operating in Hillsborough either, said Debbie Zorian, the executive director of that county's medical association.
The reason that O'Neal and Agin say they can provide enhanced care starts with their base of patients. It's not uncommon for family practices to have 5,000 or more patients. O'Neal and Agin plan to have no more than 800 patients at any time.
"It allows us to focus on preventative care and wellness, things normal practices don't do," O'Neal said. "Our goal is to keep people well."
Fewer patients, more care. For a price.
Agin and O'Neal's new practice provides a variety of services that most doctors simply don't have the time and resources to offer. Among them:
Open-access scheduling. The patient selects the appointment time.
Same-day appointments, regardless of need.
Extended physician contact, with options for appointments up to an hour long.
Longer office hours. The practice is open from 7 a.m. to 7 p.m. Monday through Friday. O'Neal said he and Agin are also available on weekends, if necessary.
O'Neal said patients will have direct access to doctors at all times through a pager number. They won't have to deal with an answering service, which can be frustrating for patients who need immediate help, he said.
In a world where 8-minute visits from a doctor are the norm, that sounds pretty good, some patients say.
U.S. Sen. Bill Nelson, D-Fla., isn't impressed.
He worries that when doctors start to restrict the number of patients they see, some patients will not get care. He introduced legislation last year to deny Medicare payments to practices that charge a membership fee.
"The patients who cannot afford the annual membership fee have to find another doctor," Nelson said on the floor of the Senate when he introduced the bill, the Equal Access to Care Act. "I find this outrageous and unethical, and it sets a bad precedent for the future of our health care industry."
Nelson was traveling and unavailable for comment. His spokeswoman Gretchen Hitchner said a rise in concierge care could lead to a doctor shortage for low- and middle-income patients, and could end Medicare.
Nelson was disturbed when a Boca Raton practice cut service to nearly 2,400 patients after switching to boutique care in March 2001. The bill sits before the Senate's Finance Committee awaiting action. Hitchner said Nelson would tack the bill on other legislation to get before the Senate in the next session.
"Sen. Nelson's goal has always been to protect the people who pay into the Medicare system," she said. "As long as these practices don't bill Medicare, he doesn't have a problem with it."
Like most practices, Agin and O'Neal's new practice does plan to bill Medicare for patients covered under that program, Agin said.
But unlike other boutique practices, the Center for Family Health, Wellness and Prevention will notdrop any patients, because it didn't have any to start with. Agin and O'Neal just finished their residency at the University of South Florida.
"We didn't want to abandon anyone," O'Neal said. "Our job is to help people, not turn our backs on them. We didn't think that would be right."
The potential of limiting the practice to the wealthy is another concern for Nelson. In Seattle, one practice charges more than $13,000 a year per patient.
O'Neal and Agin say that's not what they plan to do in Palm Harbor.
To prepare to open their clinic, the two worked until 3:30 a.m. some nights turning a two-story house into their office. A garage has been converted into three examination rooms. Their waiting room is furnished with a pair of comfortable brown couches, and the walls feature 45 paintings by local artist Robert Sutherland.
"It's an art gallery," O'Neal says.
Unlike the Seattle boutique, the Palm Harbor doctors tossed out the monogrammed robes and marble hallways to cut down costs and attract a wider range of patients.
"We wanted to make this affordable for everyone," Agin said.
A range of people have already signed up for the new service, Agin said. Patients without health insurance, patients fighting long- term illness and patients from a low socioeconomic level are already members.
The patients or their insurance plans still need to pay for the cost of the treatment, O'Neal said, and the new practice won't accept HMO coverage.
Caldwell said doctors have a range of opinions on boutique-type care. She said she's glad that Agin and O'Neal are bringing another option to Pinellas residents.
"If you ask seven different physicians about boutique care, you'll get seven different opinions," Caldwell said.
Gareth Arch, 25, was sick of not knowing his doctors. He was Agin's patient at USF and jumped at the chance to join him in Palm Harbor. He signed up for O'Neal and Agin's service as soon as he knew it was available.
"None of the doctors today know you too well," said Arch, a Web developer from Clearwater. "To them, you're a name on a piece a paper. That's all you are. It's really nice these guys are offering this service, that they're available at your request. It's worth paying a little extra for."